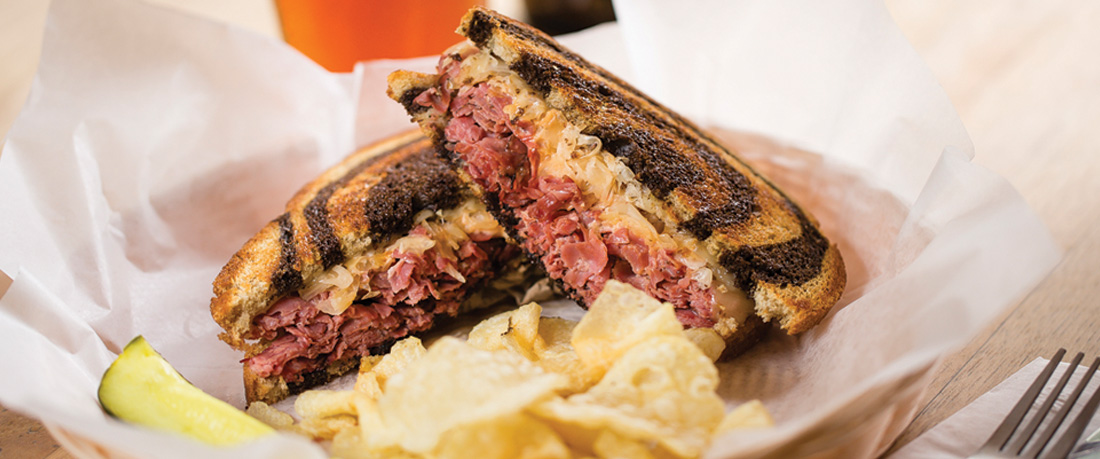 All Prices Listed Include 6.35% CT Sales Tax
Choose either whole or half sandwich; served with kettle chips & pickle
Substitute Fruit for Chip $1.00 | Substitute Salad for Chips $2.00
* Gluten free breads and wraps available or have any grill item over a Caesar salad or house salad
Whole/Half
Vegetarian With Swiss Cheese $10.50/$7.00
lettuce, tomato, onion, sprouts, roasted red peppers, avocado spread and honey mustard
on multigrain bread
Ham, Salami and Provolone $11.00/$7.00
mayo, roasted red peppers, onions, lettuce, tomato and garlic herb olive oil on focaccia
Albacore Tuna Salad Wrap $11.00/$7.00
honey mustard, lettuce, sprouts, roasted red peppers rolled in a flour tortilla
Roast Beef and Cheddar $11.00/$7.00
horseradish sour cream, baby arugula, tomato and onion on a bulkie roll
Grilled Pastrami Reuben $11.00/$7.00
Thousand Island dressing, sauerkraut and Swiss cheese on rye bread
Chicken Salad (100% White Meat) $11.00/$7.00
lettuce, sprouts, tomato and honey mustard on multigrain bread
All Natural Turkey and Avocado $11.25/$7.25
sprouts, tomato, onion and honey mustard on whole wheat bread
All Natural Turkey and Bacon $11.50/$7.50
lettuce, tomato and mayo on multigrain bread
Bean Burrito $12.00
black beans, refried beans and vegetables in a flour tortilla;
topped with salsa, cheese, sour cream and avacado
Create Your Own Sandwich
Let your taste buds and your stomach guide you; served with kettle chips & pickle.
Insides: Maple Ham, Pastrami, Tuna Salad, Chicken Salad, Roast Beef or Organic Roast Turkey
Breads: White, Wheat, Multigrain, Marble Rye, Bulkie Roll or Focaccia
Cheeses: American, Cheddar, Smoked Cheddar, Provolone or Swiss
Spreads: Hellman's Mayonnaise, Mustard, Honey Mustard, Gulden's Spicy Mustard, Dijon Mustard, Garlic Herb Olive Oil, Horseradish Sour Cream
Vegetables: Lettuce, Tomato, Onion, Sprouts, Roasted Red Peppers
Extras: Bacon $1.00 | Avocado $.75 | Cheese $.75
Whole Sandwich $10.50
Half Sandwich $7.00
Cup Of Soup & Half Sandwich $11.50
Bowl Of Chili & Half Sandwich $13.50
Cup Of Soup & Salad $10.00
Quesadillas Etc.
Vegetable $10.00
Bean & Vegetable $10.00
Spinach & Caramelized Onion $10.00
Chicken & Bacon $11.50
Cheese Nachos $8.50
Chili Nachos $11.50
Quiche of the Day
Whenever this delicious special is on the menu, it sells out by mid-afternoon. Made fresh every morning,
we offer new combinations, such as Spinach Mushroom, Crabmeat or Vegetable, as well as the traditional
Quiche Lorraine. Served with fresh fruit and a side salad. Prices vary with ingredients.
Soups
Everyday we have three or more homemade soups with the freshest ingredients available. The soup menu
will change daily and seasonally; Tomato Florentine and New England Clam Chowder are on the menu
year round.
Cup of Soup $4.25
Bowl of Soup $5.75
Award Winning Chili $5.25/$6.75
We make our own chili using a top secret, slow-cook method. Our spices are fully absorbed into
the ingredients and become a part of the chili, rather than an afterthought. Try our vegetarian version,
served as a special, or the traditional beef chili, both equally full flavored and topped with
tortilla chips, grated cheddar cheese and chopped scallions
Salads
Caesar Salad $6.00/$8.00
Garden Salad $6.00/$8.00
Tuna Salad Plate $12.00
Chicken Salad Plate $12.00
Grilled Chicken Caesar $12.00
Grilled Shrimp Caesar $13.50