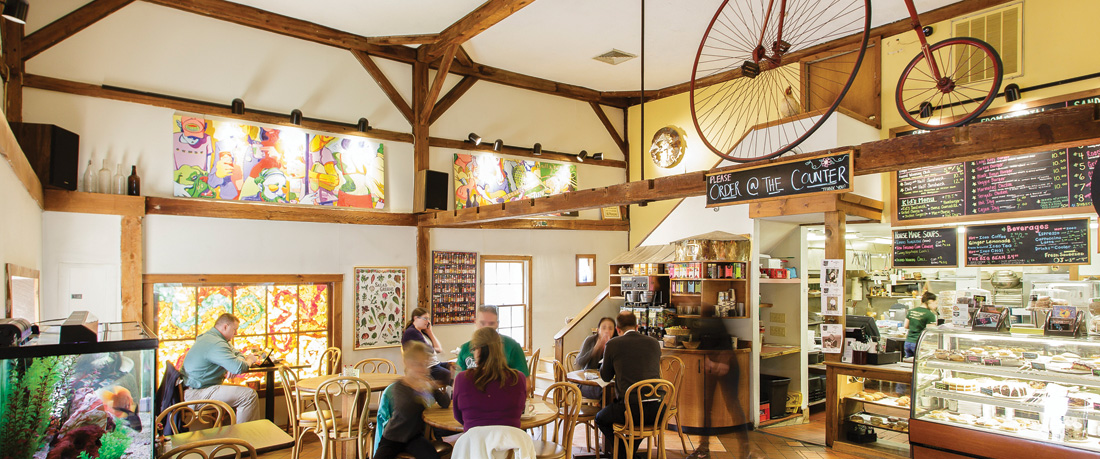 What We're About
The Vanilla Bean Café opened in 1989 with a seating capacity of 16, today we seat 90 inside and 40 outside! Located in a restored, early 19th century barn in scenic Pomfret, Connecticut, The Vanilla Bean Café is owned and operated by the Jessurun Family: Barry and Brian, with occasional appearances by and help from the rest of the family.
Our Philosophy was simple: "Create a place where we would feel comfortable and serve food that we would want to eat. If we wouldn't eat it, we certainly wouldn't serve it."
House-made soups, sandwiches, and light dinners comprise our basic menu, but daily specials made with creativity, imagination and seasonal ingredients, spice up the menu. Baked goods, such as muffins, bagels, croissants, and cookies, are available every morning, not to mention our decadent desserts.
Relax with a glass of wine, enjoy the sunshine and dine al fresco on the patio. Our menu takes on all new dimensions during the growing season. Fresh fish and other seasonally inspired grill delights appear in addition to our regular kitchen menu. Be sure to check out the blackboard lunch or dinner specials.
Our goal is to serve you good homemade food in a comfortable, casual atmosphere. As Eileen told a customer, "We provide comfort foods in a comfortable place."
We hope that you enjoy our establishment and will come back and see us again soon!
The Jessurun Family
Our Pricing
Please note that our prices include tax.
What does that mean?
At The Bean, a $10.00 menu item is really $9.40 + $.60 tax. We don't use pennies, dimes or nickels.
Why?
Well, it's faster and easier, and yet the outcome is the same–we just don't have to count small change.
We like to keep things simple–and whole!
Our Restaurant Family
The Vanilla Bean Café is the sister restaurant to 85 Main in Putnam and Dog Lane Café in Storrs.
Our restaurants are managed by Green Valley Hospitality Group
Art Gallery
The Café displays artwork by local artists year round. The shows are one or two months in duration. Some have openings and some do not. Most of the artwork is for sale and often prices are listed with the piece or on a list located in the room. One hundred percent of the sale price goes to the artist!
For more information, contact Kayla Murphy.
Bean Soup
Stay up to date on the latest entertainment and Vanilla Bean Cafe news, check out our quarterly newsletter!
Interested in advertsing in Bean Soup? Click here for more info.
Mailing List
Sign up for our mailing list and have all our entertainment news emailed right to your inbox.